How to use Gmail and Yahoo in sky email sender?
Sky Email Sender is a Fast and Easy Email Sender software to help you win the business.
How to set gmail/yahoo in Sky Email Sender
You can use gmail/yahoo to send email on Sky Email Sender software.
Gmail smtp host: smtp.gmail.com
Yahoo smtp host: smtp.mail.yahoo.com
Port Number: 465 (With SSL)
Username: Your email account
Password: App password (not your email account password) (How to get gmail app password?)
This is a gmail config example: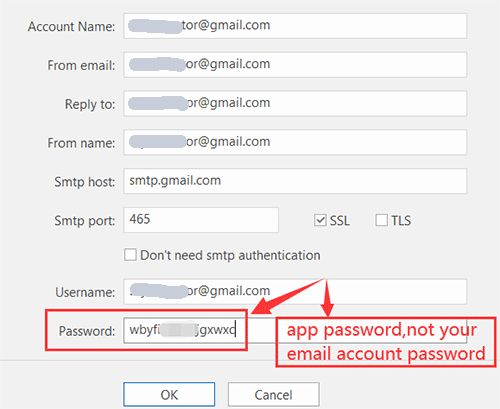 About Gmail
You need to active google's 2-Step Verification and get app password, please check this help:
How to get gmail app password?
About Yahoo
You need to active Yahoo's 2-tep verification and get app password, please check this help:
https://help.yahoo.com/kb/SLN5013.html
You can refer to this article: